Foreign Ministry Spokesperson Mao Ning's Regular Press Conference on May 23, 2023
2023/05/23
At the invitation of State Councilor and Foreign Minister Qin Gang, Deputy Prime Minister and Minister of Foreign Affairs of Ethiopia Demeke Mekonnen Hassen will pay an official visit to China from May 24 to 28.
CCTV: It was reported that the joint commissioning and testing of the Jakarta-Bandung High-Speed Railway (HSR) started on May 22 local time, which marks important progress in the railway's construction and lays a solid ground for the inauguration of the whole line. Do you have any comment?
Mao Ning: The Jakarta-Bandung High Speed Railway is the first overseas Chinese high-speed railway project with its entire system, production factors and industrial chain supplied by China. It is a flagship project in China-Indonesia high-quality BRI cooperation and a stellar example of China and regional countries undertaking win-win cooperation by following the principle of wide consultation, joint contribution and shared benefits. It will become the first high-speed railway in Indonesia and in Southeast Asia. The project has now entered the final stage of construction. We are confident that, with the joint effort of the two countries, the Jakarta-Bandung High Speed Railway will be up and running as scheduled, bring a better life for the local people and speed up the development of Indonesia and the wider region.
Yonhap News Agency: It was reported that the ROK search portal NAVER is not accessible in China now. This website is similar to China's Baidu and is popular among the ROK people in China. Why is this website not accessible?
Mao Ning: I haven't seen the report you mentioned and do not have any information to offer.
Nikkei: I'd like to learn more about Russian Prime Minister Mishustin's recent visit to China. What are the specific schedule of the visit and what is China's expectation for the visit?
Mao Ning: China and Russia are each other's biggest neighbors. Our cooperation has strong resilience, ample potential and vast space. We welcome Prime Minister Mikhail Mishustin to China and look forward to a successful visit and the impetus it will provide to the cooperation and exchanges between our two countries.
Thank you for your interest in the visit. We will release timely information about the visit. Please check back for updates.
Reuters: The US Energy Department told lithium battery company Microvast Holdings that it will not award it a $200 million grant, Reuters has reported citing a source that lawmakers attribute concerns over the company's alleged links to China's government. Does the foreign ministry have any comment on this?
Mao Ning: What the US government decides to do to US companies is a matter of the US. I have no comment to make on that. I do wish to say, however, that China is firmly opposed to making an issue of China by some people in the US.
The Paper: According to information released by the Japanese Embassy in China, when Vice Foreign Minister Sun Weidong summoned Japanese Ambassador to China Hideo Tarumi for a démarche on May 21, Japan made refutations, saying that China is hindering cultural and people-to-people exchange between the two countries. Do you have any comment?
Mao Ning: On May 21, Vice Foreign Minister Sun Weidong summoned Japanese Ambassador to China Hideo Tarumi and made a serious démarche on the G7 Hiroshima Summit hyping up China-related issues. We have released a readout which you may refer to.
As for Japan's self-justifying arguments, the Chinese side refuted them on the spot, noting that the US and Japan came out identifying China as "the biggest strategic challenge", pointed fingers at China and interfered in China's internal affairs at various fora and went all out to counter and contain China. It is them who need to change course and mend their ways.
On the people-to-people exchange between China and Japan, I would like to stress that China supports friendly exchanges between the two countries in all areas. This has been our consistent position. What is important is to treat each other with sincerity and credibility, and work together to create an atmosphere conducive to improving and growing bilateral relations. Japan needs to earnestly draw lessons, stop its wrongdoing, and work with China, rather than call China the one to blame.
TASS: Russian Prime Minister Mishustin attended the China-Russia business forum in Shanghai earlier today. He noted that closer cooperation between China and Russia will benefit the two countries' economy. Some Western countries may express concern or disapproval over closer China-Russia cooperation, and even consider imposing sanctions due to Russia-related factors. Do you have any comment on this?
Mao Ning: China has normal economic and trade cooperation with Russia and other countries in the world. Our cooperation is based on equality and mutual benefit. We oppose unilateral sanctions and long-arm jurisdiction that have no basis in international law or mandate from the UN Security Council. China-Russia cooperation does not target any third party and is not subject to disruption or coercion by any third party. China will take all measures necessary to protect the legitimate and lawful rights and interests of Chinese companies.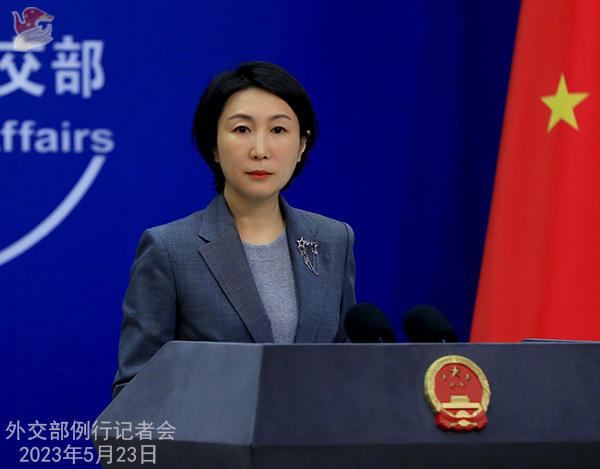 CCTV: The G7 Hiroshima Leaders' Communiqué issued on May 20 underlines that the highest standards of nuclear safety and security are important, and notes that the leaders support the IAEA's independent review to ensure that the discharge of Advanced Liquid Processing System (ALPS) treated water will be conducted consistent with IAEA safety standards and international law and that it will not cause any harm to humans and the environment. Do you have any comment?
Mao Ning: There is no precedent in the world for discharging nuclear-contaminated water into the ocean. Without fully assessing all potential options and finding the safest one, Japan decided on the ocean discharge plan simply for saving cost, which will spill risks to the rest of the world. Over the past two years, Japan has been pushing through the ocean discharge plan in disregard of the legitimate concerns and opposition from various quarters, and even attempted to rope